THANK-YOU for being part of the celebration looking forward and looking back on mathematics education in the past and future 100 years.
Featuring
2 Keynotes:

Simon Singh – popular British author, journalist and TV producer, specialising in science and mathematics.
Bill Simpson – Life member, long standing QAMT supporter and name sake of the Bill Simpson Closing Plenary.

30+ workshops  – new ideas for your classroom
Networking
Trade displays

2 Panel discussions:

Addressing the Teacher Shortage – featuring Prof Merrilyn Goos (USC)
The what and why of the revised P-10 Australian Curriculum – featuring Rachael Whitney-Smith (ACARA), Prof. Vince Geiger (ACU) and Prof. Chris Matthews (ATSIMA)

3 Locations

All Hallows School, Brisbane
The Cathedral College, Rockhampton (Friday only)
St Mary's Catholic College, Cairns (Saturday and Sunday)

2 Masterclasses – 3hrs for a deep dive into problem solving resources and pedagogies.
 Go back to where it all began to turn the town red – The conference dinner – Customs House, Brisbane

1920s themed conference dinner
An address by

Prof. Hugh Possingham, Queensland Chief Scientist

The Story Bridge and other Brisbane landmarks will be lit red, the QAMT colour, to celebrate our centenary and the work of all teachers of Mathematics.
Friday Program – Virtual only
(and streamed to the Rockhampton Satellite Conference Hub)
Friday Program

Two Masterclasses included in your registration.
This is an opportunity to delve deeper into problem solving and its associated pedagogies.
Masterclass abstract and bios pages

Conference Dinner
Rockhampton Satellite Conference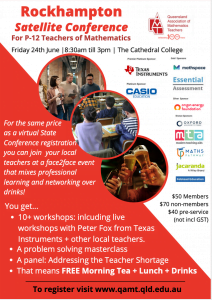 Cairns Satellite Conference – cancelled