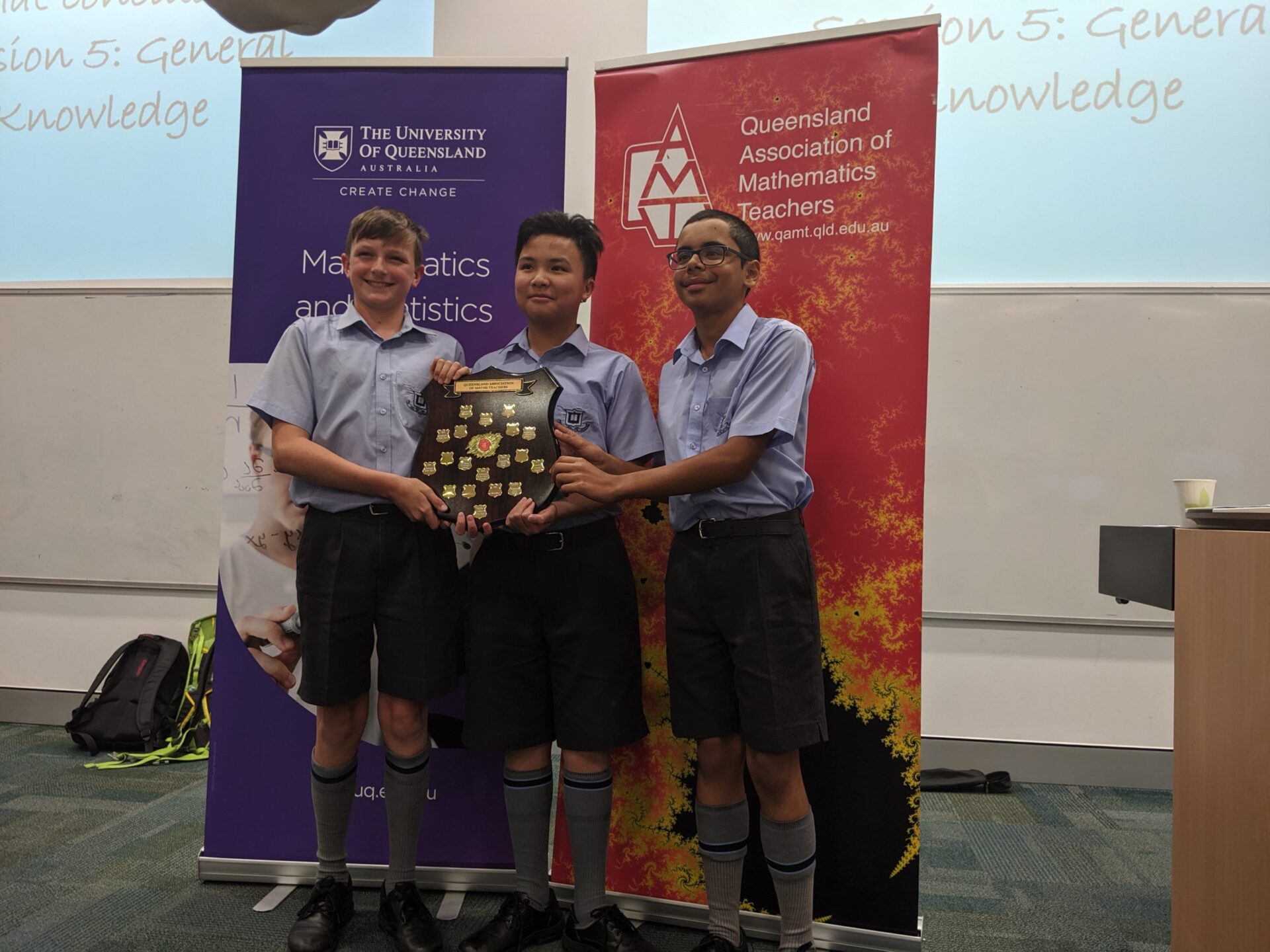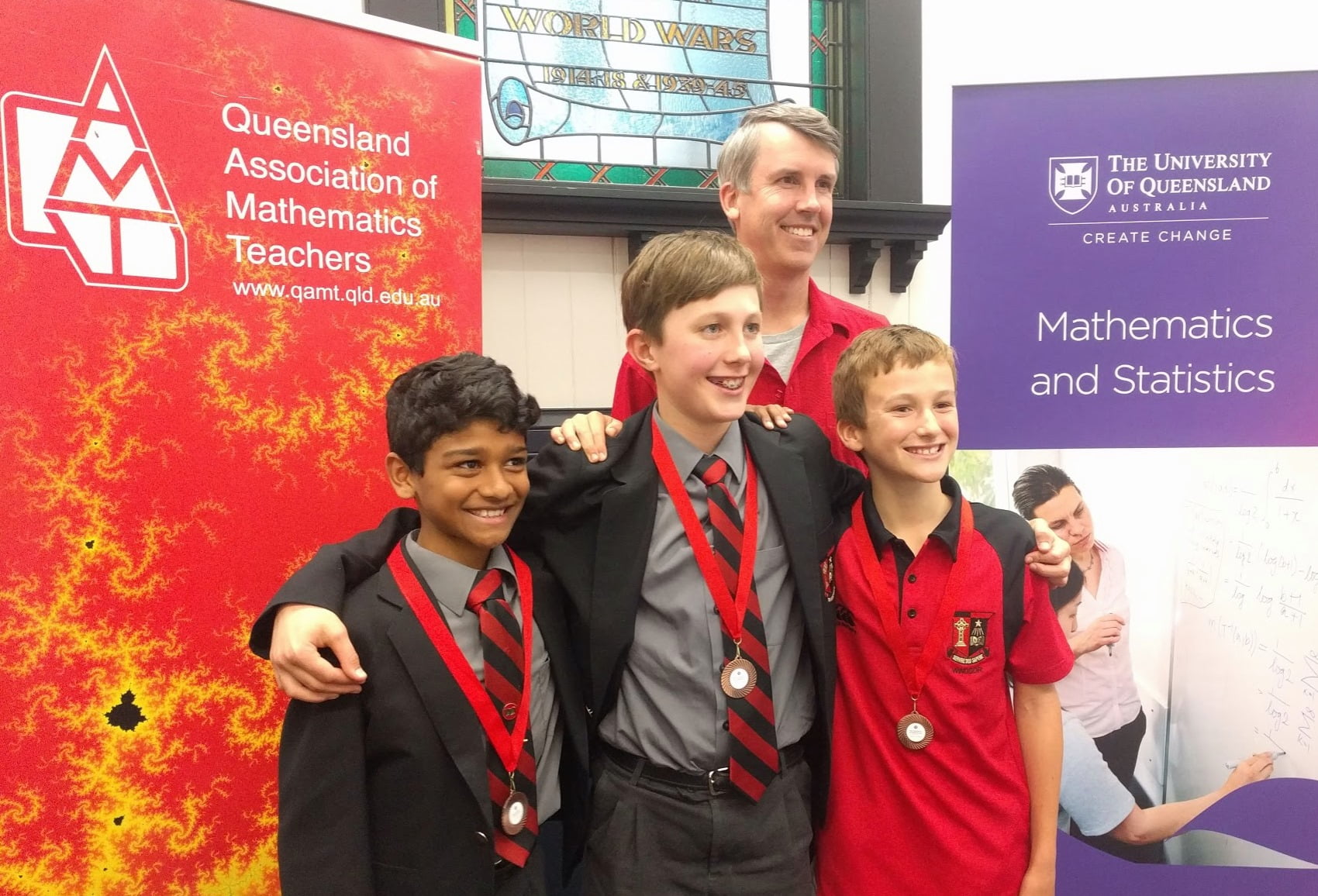 2022 Quiz dates
Quiz Registration Opens – Term 2 Week 5 – Monday, 16 May, 2022
Quiz Registration Closes – Term 3 Week 3 – Friday, 29 July, 2022
Quiz Round 1 – Term 3 Weeks 5 to 7 – Monday, 8 August to Friday, 26 August, 2022
Regions or individual schools run Round 1 whenever is convenient for them within these three weeks.
Quiz Round 2 – Term 3 Weeks 8 to 10 – Monday, 29 August to Friday, 16 September, 2022
Regions or individual schools run Round 2 whenever is convenient for them within these three weeks.
State Finals – Term 4 Week 4 – Thursday, 27 October, 2022 – Virtual and by invite Only
The Year 7/8 Quiz is sponsored by
The University of Queensland School of Mathematics and Physics.
YEAR 7/8 QUIZ MAP
YEAR 5/6 QUIZ MAP
Find a QUIZ CENTRE near you!

If there is a centre near you that you would like to attend for Round 1 of the Quiz, click on the pin and check the address and contact email for the centre. Contact the centre or host school through the area convenor (using the email information provided from the map) to request a spot to join Round 1 at that centre. The area convenor will put you directly in contact with the host at the centre (we are doing it this way to protect the personal data of the teachers at the host school). If there is no reply within a few days, please request us to follow up for you <qamt@qamt.qld.edu.au>.
All schools registering teams for the Quiz should make sure they register online if they haven't already done so – even if they are attending a host-school centre for R1). Schools who do not wish to attend a centre for Round 1 must register this with QAMT or they will not receive the questions and materials. If you have any queries about the process, or wish to change your registration, please email <qamt@qamt.qld.edu.au> in the first instance.
Do you have questions about how the Yr5/6 and 7/8 Maths Quiz will run in 2021?
Here are 2 of most popular questions and answers:
I have read the email that has been forwarded to me about the competition and have registered 2 teams on the website. May we enter more than two teams?
The number of teams registered is left open for each school – you may enter as many teams as you think would benefit from the experience – you can choose to run the Quiz through a maths club, as part of your usual timetable, through (advanced) timetabled classes, as a special event for selected students or attend a nearby Host Quiz Centre (the centre may limit team entries)
Can we run the competition on a different day to that specified by QAMT ?
Yes, if run as close as possible to the dates suggested above – but QAMT will need to receive the results by a set date, confirm with the QAMT office. You might also choose to split the quiz into two sections so that each section can be delivered in a timetabled class time on different days.
2021 Information Statement

QAMT has decided that the 2021 Quiz can be run with individual schools running the quiz in their own school with their own students or at Host Quiz Centres. The quizzes will presumably run in school time, though that is a matter entirely for individual schools and Quiz Centres.
The Round 1 of the quiz (held for all schools and centres in the fourth week of Term 3 (EQ 2021 Calendar): 2nd – 6th August)
A school may enter as many teams from their own school as they can accommodate – the number of teams will depend on how many students will be able to access the quiz questions and enjoy the challenge or a team/s can enter their nearest Quiz Centre, usually by invite. The Centre coordinator has the right to limit the number of teams entering from one school.

Each team as usual will have three members (at least one of whom will be from yr5 (y5/6 quiz) or yr7 (y7/8 quiz).
Round 2/Regional Finals (Round 2 of the quiz will be held for all schools in the eighth week of Term 3 (EQ 2021 Calendar): 30th August – 3rd September  (Note: 3rd September is a student free day for EQ schools)

For both the 5/6 and 7/8 quizzes, teams will be selected from the Round 1 quiz results and be invited to a 'regional' round. This round too will have the options to be run through individual schools by the schools themselves, with the possibility of nearby schools getting together in a local arrangement if that works for them or through Host Quiz Centres. 'Regions' will be determined and modified along the lines currently in use for the 7/8 Quiz but may be slightly different for the y5/6 Quiz.
The State Finals (will be held on-line on Thursday 21st October 2021)
Up to fifteen to twenty teams will be selected from the 'Regional' quiz round for each of the 5/6 and 7/8 quiz and be invited to the 'State Finals'. It is hoped that because of the capped numbers of teams taking part, this section of the Quiz will be delivered on line, but we'll need to make sure that no schools are disadvantaged by this.
Registration
In order to support our QAMT Members and Mathematics teachers generally throughout Queensland, registration for schools who want to participate in one or both of the 5/6 and 7/8 quizzes has been reduced and simplified for this year:
Registration is free for schools that act as Host Quiz centres and are financial Institutional Members of QAMT Inc.

The registration fee is reduced for schools which nominate a financial QAMT Inc. member who is currently engaged at the school to be the contact for the school or the school is a financial Institutional Members of QAMT Inc

For schools which are not Institutional Members or do not have a current member who can represent them, there will be an initial fee of $44.00/team (including GST & admin fee) for each of the y5/6 and y7/8 quizzes then subsequent teams can be registered for $33/team.
QAMT hopes that running the quiz in this way will still give students an opportunity to enjoy and use their maths in an enjoyable and challenging environment. Obviously, we'll need to be 'flexible and agile' with the arrangements this year, but we encourage you to register your teams through the QAMT website as usual. Looking forward to working with you all again.
Peter Cooper
(Co-ordinator, QAMT yr5/6 and y7/8 State Maths Quiz)
Note: A school is considered a member school if the school is a financial Institutional member of QAMT, or the registration of the school's teams is done by a financial individual member working full time at the school at the time of registration.
Year 5/6 and 7/8 Quiz 2021 – running suggestions for in-school use
Quiz Structure
The Quiz is organised into five sessions – Session 1: Estimation; Session 2: Speed; Session 3: Written Problems; Session 4: Individual questions; Session 5: General Maths knowledge
All sessions are similar to previous years except for the 'Speed' Session. To make this easier to run in a school situation where there may be lots of teams and only one or two helpers, a sheet containing the questions will be given to each team member and they will have two minutes to answer as many of the questions as possible. At the end of the two minutes, the team will assemble their sheets with the captain's sheet on top, and then take these to a marking location. For each team, the captain's sheet will be marked first and totalled. For each question the captain gets wrong, or doesn't complete, the two sheets from the rest of the team are considered. If there is a correct response to the captain's unanswered or incorrect questions in the team sheets, the team will get an additional ½ mark (only one half-mark possible for each supplementary answer). The half-marks can be recorded on the Captain's sheet, and the total recorded. The event is a team event because each team will need to work out a strategy to maximise marks for their own team, and team members are permitted to discuss/speak to each other during the two minutes – but they can only write the answers – nothing else
How long does the Quiz take?
This will depend on how the marking is done, and how many teams you are running. The time taken to actually ask the questions and have the students respond is about ½ hour. Organising, distributing materials, dealing with disputes or matters of judgment all take time – but the biggest time constraint comes from the marking. We suggest that teams write their answers on paper and hold them up at the end of each question. They then take the sheets to the marker who can quickly mark and record the scores. (If you only have one-three teams involved this would be quite quick and easy to organise). The marking can happen while the next question is being asked/answered, or in the case of the Speed Session and Written Problems Session, marking can take place during the following section of the Quiz. It might be a good idea to have a break after the Written Problems Session to allow the marker to catch up. For lots of teams, this may take a fair bit of paper, but the paper used could be quite small, or even recycled (the team member bringing up subsequent answers can take the marked papers back for re-use. So how long does the Quiz take? It would be possible to get it all done (though maybe with not everything marked) in a full hour. A more leisurely Quiz, with breaks, some discussion and perhaps a food/relaxation break after the Written Problems could take about an hour and a half. One suggestion is for schools to organise the Quiz in two sections across two class lessons on different days. Time available after the Quiz sections have been completed could be used for student to work on the questions to check methods and processes ….
Simplified marking and scoring
To enable the Quiz marking to be completed quickly and accurately, we think it would be a good idea if teams bring up their written answers at the end of each question (or at the end of the Speed and Problems Sessions) – the scorer can then mark and enter these into a grid set up for each session (columns would be the team names; rows would be the mark for each question, with a space for a total on each sheet). The grids can be totalled at the end of each session, and an overall total for each team quickly derived. As a check, each team should record their own scores as they go. They can use these 'scores' for bragging rites until the official marking which might occur after the Quiz is completed
Resources for running the Quiz
The Round 1 Quiz has been put together so that no special resources are required. The Quiz coordinator will receive an email with what photocopying and other things might be required for the Quiz. In addition, a computer (capable of running .pptx files) and data projector (or very large screen TV), lots of paper, spare pens/pencils, rulers, and a few calculators (students should be reminded to bring/organise their own equipment) will be needed. We are not using protractors, compasses, and so on. At least one helper, or possibly two for schools entering larger numbers of teams will also be needed.
Practice Resources for the Quiz
There are currently two complete Quizzes on the QAMT website which can be downloaded and used with students as Practices. You will find that many of the questions in each Quiz will be suitable for all year levels (5 – 8) though younger kids may need more time on some of the questions intended to for the older students. Then again, they might not – you'll be surprised at what your students can and can't do.  The 'practice' Quizzes can be found below.
Sending in marks – Qualifying for the Regional Rounds
To select teams for the Regional finals, we need to receive the marks scored by your top two teams. It would also be helpful if you could break down their scores into the score for each section/session of the Quiz.  
Marks must be sent in to us by a set date (email preferred). If this does not work for you, please let us know when the marks will be available. All teams must be registered for all rounds.
Registering Your Teams
It is necessary for all teams to be registered no matter what format you are using to do the Quizzes.  Only registered schools will receive the 'official certificate templates' for their students. Host Centres will receive further information on running the Quiz, the Quiz PowerPoint, Quiz files for printing, and, the 'official certificate templates' for their students. 
Play Button below for the quiz music. Download and save in the same folder as the sample quiz.
Play Button below for the quiz music. Download and save in the same folder as the sample quiz.